Finally Get Results That
Grow Revenue
Get qualified
leads that convert into revenue

, not vanity metrics and leads that waste your team's time.

You can pay for one of two things when you hire a Digital Marketing Agency: Activities or Results. We live and die by our client's results. No client ever told us they want rankings or leads for the sake of having them. They want the revenue and growth to their business, obviously.

I can promise you, you'll never ever hear us hang our hat on meaningless vanity metrics or filler activities to justify our existence.

When you hire Clixsy, you'll get 100% singular focus on getting real results that generate revenue for your business. Period.

Our promise to you is to get to a place where everything we do generates a measurable ROI so you can sleep soundly knowing Clixsy isn't a cost to you. We pay for ourselves and then some.

Hiring us is the moment you tell the world you're done being 2nd place. If you want to outperform everyone else in your market, you've come to the right place.

Schedule My Assessment

I can confidently say Corey & Will of Clixsy are 'my guys' for innovative and effective web strategy. They've stood the test of time, working with us since 2013. As they've come through for us and gained my trust, we've increased our projects with Clixsy which now include all of our brands in Personal Injury, Criminal Defense and Disability practice areas.
Richard Harris
Richard Harris Law Firm
You'll feel like we are your in-house team of industry experts
Work with a team that fully understands your business and gives 100% all the time
If you ask any of our clients (yes, we'll gladly get you references) each will mention how hands on we are, that we push the envelope and constantly work to innovate competitive advantages.
They'll tell you that we're much more than merely an "SEO" or "PPC" company to them. We're an extension of their team. We have years of knowledge working with every aspect of growing a business and generously give of our time and resources to our clients to ensure success.
Many agencies try emulating us and are consistently 12-24 months behind the curve. We're leaders in our industry and have the results, data and client testimonials to back it up.
Get Clixsy on My Team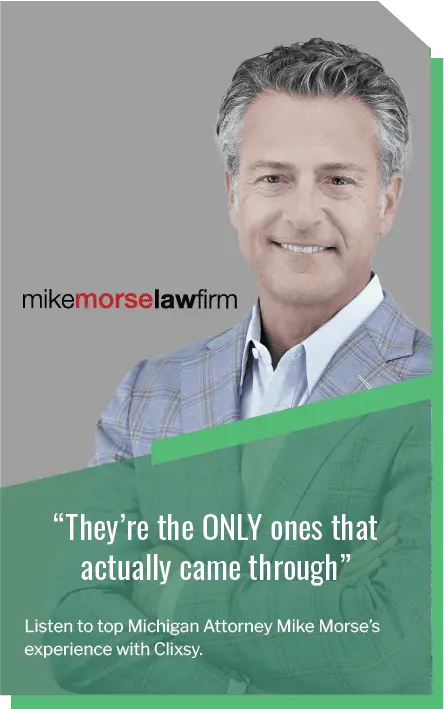 Clixsy's process and their strategy is very impressive. We saw a significant and dramatic change in our visibility once the first content revamping was done. We're now on page one under the margin between number one and number two, where we're number one at visibility, its huge! Watching how Clixsy has kept up with the changes in this fast moving industry, it's comforting to know that you've got somebody to pick up the phone and say, "Hey I hear about this, how's that going to impact us?" They'll get back to us with either an answer or a suggestion or some recommendation of what they're going to try and see what works.
Hughes and Coleman
Dominate Search Results With Clixsy's Full Coverage SEO TM
Stay top of mind with your target audience with more impressions per keyword than your competitors
Our results speak for themselves. Clixsy's clients consistently win even in the toughest local and national markets. And that's not enough to satisfy us.
When you hire Clixsy you won't get an agency that pats themselves on the back after merely achieving a top ranking on page 1.
We pioneered a concept no one else offers called Full Coverage SEO™.
A Clixsy client will see consistent growth in their website's visibility until the point that their name is on page one numerous times for the same search. It's common for us to display 3-5 different impressions for our client's brand, on the same search result.
Let me be clear, so there's no confusion.
Imagine what it would mean for your business if a person who's ready to do business now saw your brandname not once, but numerous times on page one. What would happen if every time a prospect searched they thought "Man! They (you) are everywhere"?
Now you're separating from the pack in a way they can't.
If being at the top of the page is valuable, what's it worth to be at the top, the middle, the side and the bottom?